In order to receive your MoMA Member Benefits, either:
Create an Account and make sure your membership information is in your account in the membership tab. Your MoMA.org account is separate from the online store account.

Sign into

your existing account at the top of the website and check to make sure your MoMA Membership in entered on your Membership account tab.
Check out as a Guest and enter your membership information by clicking on Enter MoMA Membership for Discounts & Free Shipping + during the checkout process. Make sure the information matches what you have on your membership card.
Become a member, add a MoMA membership to your cart

here

and enjoy your 20% off your first order, free gift wrap and free standard delivery for orders $20 and above.
MoMA Members enjoy Free Standard Shipping!
Free flat-fee standard shipping every day for shipments to the contiguous U.S. for members on purchases over $20.
Additional delivery charges may apply for over-sized or special items.
Excludes international orders and additional delivery charges. Additional exclusions may apply.
MoMA Members enjoy Free Gift Wrap!  
Select Gift Items for Gift Wrapping on the Shipping page during the checkout process.
Your complementary Gift Wrap will be automatically be applied to your order.
Free Gift Wrap available in stores.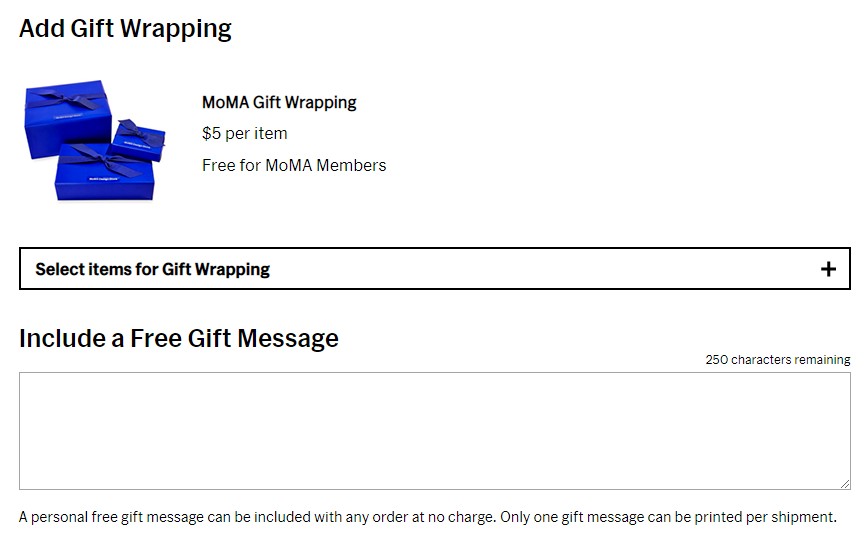 Order 24/7 
800.851.4509
Need help?
Monday to Friday 9:30 a.m. - 5:00 p.m. ET
800.793.3167