Ways of retrieving your MoMA Membership information
If you forgot your Member number, click on Forgot your Member number and we will email it to you!
This link can be found when you click on Enter MoMA Membership for Discounts & Free Shipping + under the Order Summary in Your Shopping Cart, as well as the Shipping and Billing pages.
You will be prompted to provide your email address and shortly after we will mail you our MoMA Membership information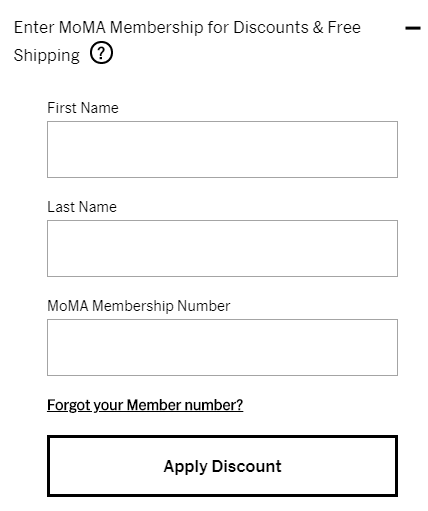 Also, if you are a MoMA Member and receive our email newsletters, scroll to the bottom and conveniently find your membership information at the bottom of the email. 
Sign up to receive our newsletters with updates on new product launches, gift guides, designer stories, MoMA Member Shopping Days, special offers, sales events and more!
Order 24/7 
800.851.4509
Need help?
Monday to Friday 9:30 a.m. - 5:00 p.m. ET
800.793.3167